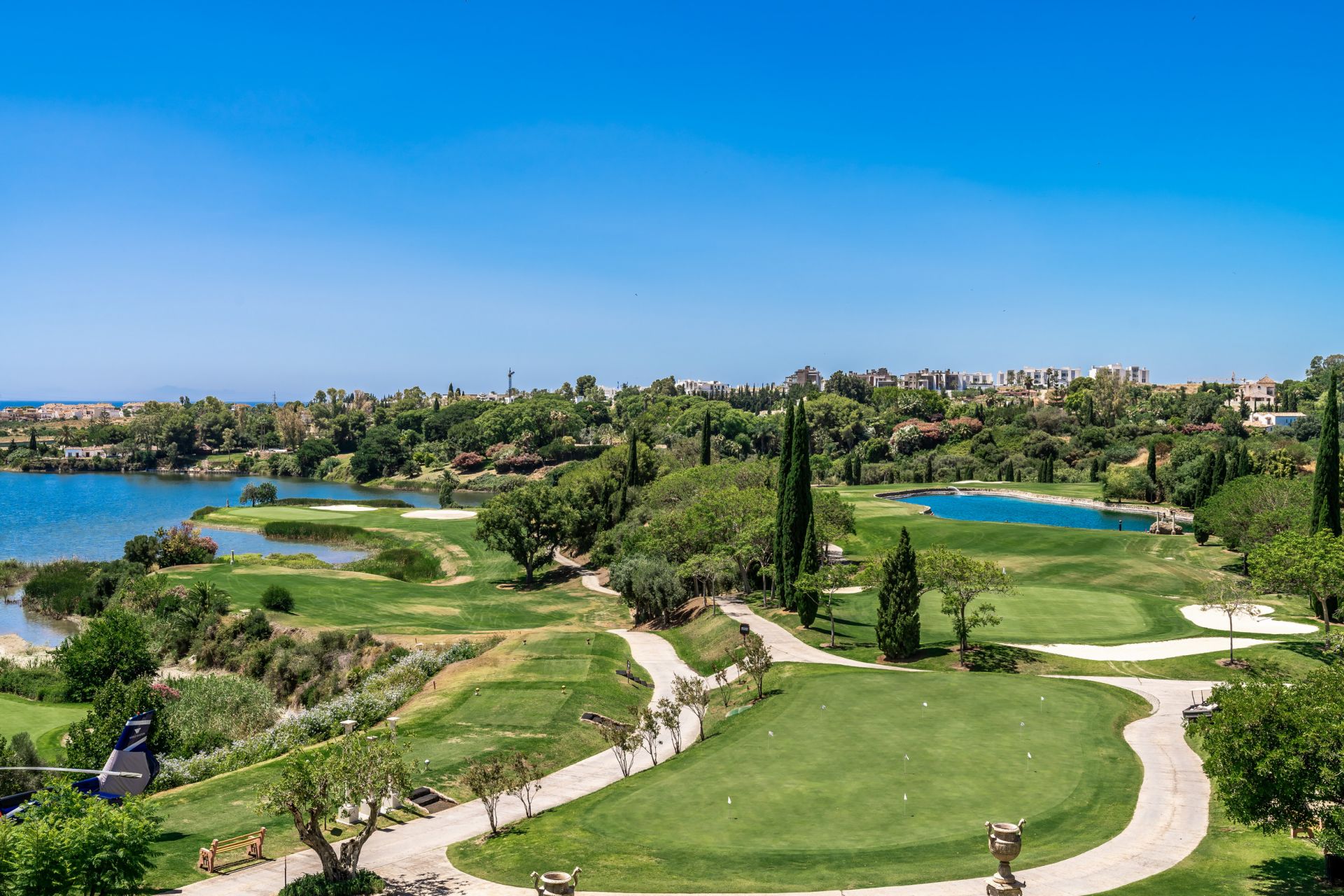 LOCATION
The municipal area of Benahavís covers almost 150km2, extending from the seashore between Marbella and Estepona all the way to the foothills of the Serranía de Ronda mountain range. The setting and lifestyle that this region offers are very different to typical Costa del Sol resorts, centered as it is upon the picturesque village and the rustic Andalusian surroundings.
---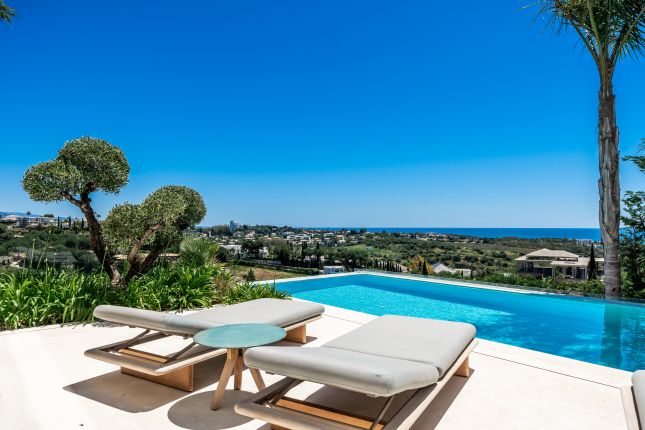 SETTING
Over the past years Benahavis has become one of the most sought-after areas for those people looking for a modern luxury property on the Costa del Sol. They find in this part of the greater Marbella area an excellent choice of new exclusive villas and gated apartment developments in Benahavis offering the kind of upmarket amenities that are attracting clients from all over the world.
Visitors feel attracted by the space, natural beauty and proximity to Marbella and Estepona that Benahavis offers, for this is an area that offers a very different lifestyle and ambience of the coastal resorts, yet combined with all of its amenities and benefits.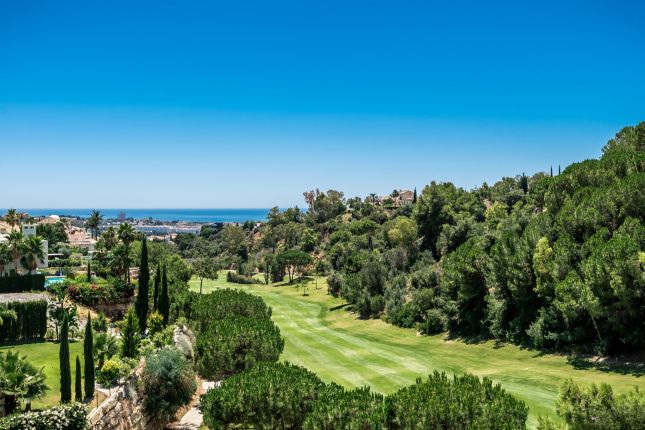 Golf Courses in Benahavís
The area of Benahavís is known for its wide range of famous golf courses, it is the second municipality with the highest number of golf courses in Spain, second only to Marbella.
The golfing potential of Benahavís is immense, considering both its golf courses and the residential urbanisations associated with golf.
The golf courses in Benahavís – all of which are spectacular – were designed by renowned golf architects such as Robert Trent Jones and great champions such as Severiano Ballesteros and Jack Nicklaus.
Benahavís has 12 golf courses in 8 clubs: Los Flamingos Golf Club, La Quinta Golf & Country Club, La Zagaleta, Los Arqueros Golf and Country Club, Marbella Club Golf Resort, El Paraíso Golf, Atalaya Golf and Club de Golf Benahavís.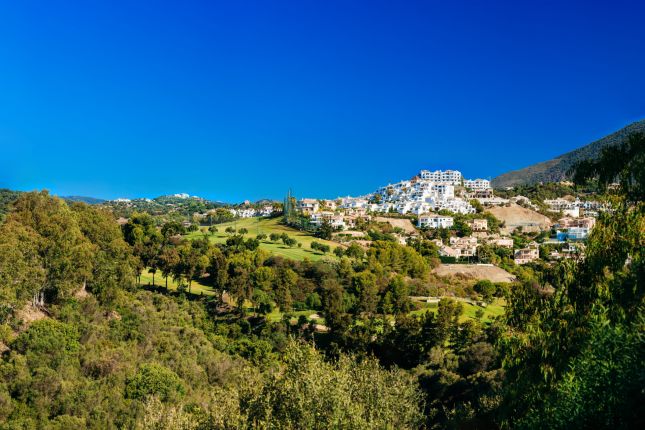 THE  VILLAGE OF BENAHAVÍS
The village of Benahavís is therefore small and charming, but it offers a broad range of living environments within its green valleys, wooded hills, and mountain ranges – thanks to which this is one of the most beautiful parts of the Costa del Sol. Such scenery blends with luxurious residences overlooking superb golf courses, which together with low build densities and an exceptional quality of life explain why it is so sought-after among foreigners looking to buy property on the Costa del Sol, in a natural haven of peace and beauty within easy reach of Marbella.
Besides space, fresh air, the rustic charm of natural surroundings, and spectacular country and sea views are among the key factors of the lifestyle that sets Benahavis apart and makes it such an appealing alternative to the coastal pleasures of Marbella. Proximity to the latter is another factor, as is the excellent choice of properties, living environments, and amenities.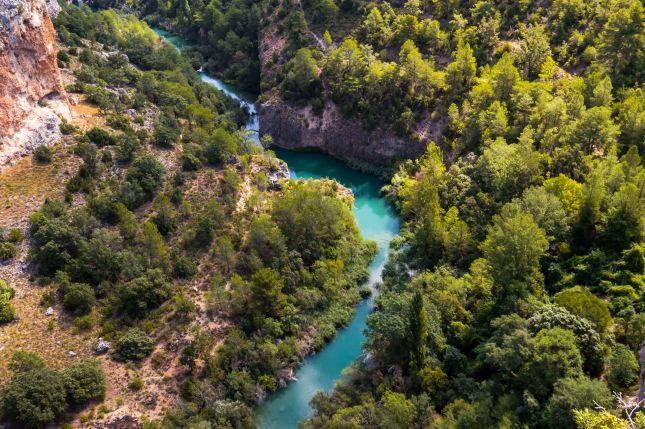 A paradise of unspoiled nature
Benahavís is a real treasure trove for lovers of unspoilt nature and a paradise for those seeking adventure, hiking, cycling and swimming.
The Guadalmina River is undoubtedly one of the most characteristic natural environments in Benahavís and offers great opportunities for canyoning; you can make your way down the river through waterfalls and pools of water. The route is approximately 1 kilometre long and descends into a water passage that creates natural walls. In some parts, you will have to swim through a narrow section with various plants between the rocks and water dripping from the rocks. The river opens up to the most spectacular area, with the rocks on both sides giving the impression of going through a cave with crystal clear water.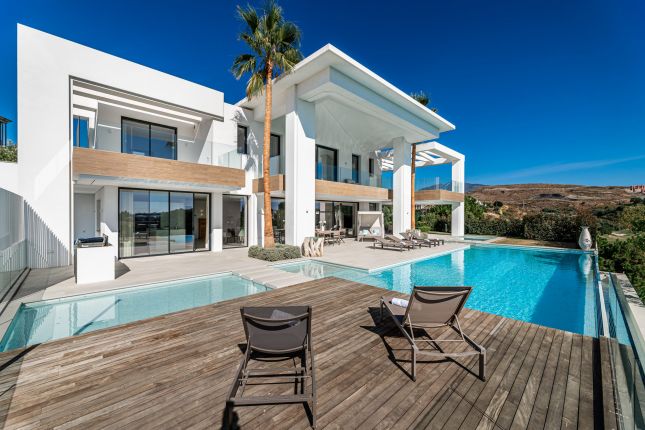 PROPERTY MARKET
The Benahavis property market is characterised by exclusive country clubs and attractive residential areas overlooking nature and/or golf courses, with an excellent choice of apartments, villas, townhouses and rustic properties in a broad price range.
Benahavis ranks as one of the richest municipalities in Spain thanks to the luxurious country clubs and residential developments that surround the village. These include golf resorts such as Los Arqueros and La Quinta, as well as La Zagaleta – one of the most exclusive gated country clubs in Europe – and the Villa Padierna five-star deluxe hotel and golf resort chosen by Michelle Obama and her family in 2010.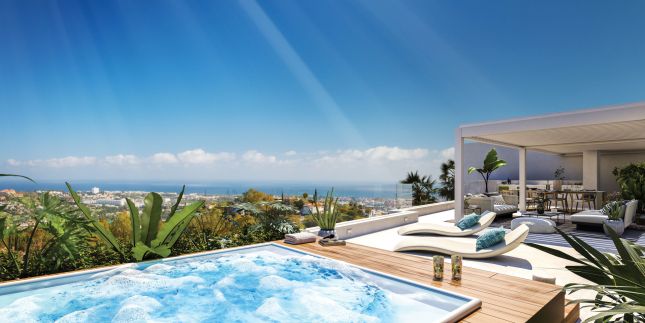 New developments
Benahavís is home to some of the most exciting new property developments on the Costa del Sol, and the new homes in this region are marked by their space, charm and fantastic views, as well as their easy access to all manner of practical amenities and leisure facilities. Many new developments of exclusive villas and luxury gated apartment communities in Benahavís offer contemporary style and luxuries as well as exclusive on-site facilities such as spa, heated pools, gyms and concierge.
In recent years, this blend of features, together with a growing offer of first-class modern villas and apartments for sale in Benahavís and its surroundings has made this part of the greater Marbella area increasingly popular among foreign buyers looking for a luxury property on the Costa del Sol.
For many, especially those who don't feel the need to look for a property at the beach, Benahavís represents the best of both worlds, offering as it does a rustic setting surrounded by nature that is just minutes removed from the excitement and amenities of the coastal area and Marbella.
---
Learn more about areas in Benahavís
---
Urbanisations
in Benahavís
La Zagaleta
Occupying a former hunting estate of almost 900 hectares, La Zagaleta is the most exclusive country club in Marbella, and one of the very finest in all of Europe. The secure, gated community features private villas and mansions set widely apart on large plots with unspoiled nature all around. Two golf courses, a five-star deluxe clubhouse and restaurant, equestrian centre, stabling, private concierge and of course unequalled views make it a country club of international allure – all reserved exclusively for residents and their guests.
El Madroñal
The ultimate rustic-chic hill club in the Marbella area, El Madroñal is a gated community of stylish country villas set upon large tracts of private land. From each of the pretty gardens, interspersed with open nature, the views to the nearby mountains and sea are simply awe-inspiring. It is the ultimate blend of luxurious country living on the edge of Marbella.
La Reserva de Alcuzcuz
A former hunting estate on the west side of the Ronda road, La Reserva de Alcuzcuz is an exclusive gated community of contemporary apartments and villas set within pine trees overlooking protected nature all the way down to the shoreline.
La Heredia
Set a little further uphill on the same side of the road, La Heredia has the look and feel of a beautiful, Andalusian village, complete with pretty townhouses, apartments and even villas that together create the ideal vision of a Mediterranean community. Impressive sea views down to Gibraltar open up before you at home or at one of the charming little bistros and bakery at the entrance to the urbanisation.
Monte Halcones
Driving uphill towards Ronda, Monte Halcones is on the eastern side of the road. Before you reach the exclusive hillside urbanisation of apartments and villas itself, you pass a commercial centre whose restaurants, cafés, shops, supermarket and bank service the surrounding area. The properties in Monte Halcones enjoy stunning south-easterly views across La Quinta and Nueva Andalucía towards Puerto Banús and the sea. Set within the wooded environs of Monte Halcones is the Hotel Alabardero, a pleasant retreat situated in a very private location on the Ronda road. Surrounded by gorgeous gardens, it has paddle tennis, spa, an ambient pool deck and excellent restaurant and bar.
Los Arqueros
This large residential area just above Puerto del Almendro is centred upon a stunning golf course that flows downhill, flanked by attractive modern apartment complexes and private villas. The clubhouse, with its restaurants, hospitality venues, pro facilities and also a fun bar and bowling alley, is a reference point for the local community. Designed in 1991 by the legendary Severiano Ballesteros, the Los Arqueros Golf & Country Club's 18-hole, par 71 course occupies a large valley that cascades spectacularly down the lower slopes of the Serranía de Ronda mountain range.
Los Flamingos Golf
This country club between hills and the sea represents the westernmost extension of Benahavis, close to Estepona's New Golden Mile. Follow its gated entrance through a road lined with palm trees and you come to the outstanding five-star deluxe, 132-room Anantara Villa Padierna Palace Hotel, a classical spa resort with palatial style and award-winning wellness centre that is surrounded by the Tuscan-inspired greenery of the Los Flamingos golf course, which consists of the three nine-hole courses of Flamingos, Alferini and Tramores Golf and flow down the valley towards the sea, ending in a series of lakes. The exclusive villas and apartment complexes of Los Flamingos overlook this scene, along with sea views, from gently raised positions, making this one of the most scenic of Benahavis' many fantastic residential areas.
Puerto del Capitan
Coming down the beautiful gorge that separates the Benahavis valley from the rest of the coastal area, one reaches El Capitan, a south-facing area of rustic and modern villas that has a country feel about it yet is close to San Pedro Alcántara. The area is also home to a delightfully scenic 9-hole, par 36 course surrounded by lovely rolling hills at the base of the mountains that rise up towards Benahavis and the Ronda road.
La Quinta
On the eastern extension of Benahavis lies La Quinta, an extensive country club bordering the Marbella suburb of Nueva Andalucía. The established part first developed in the 1970s is now a mature zone in which attractive Mediterranean villas, apartments and townhouses follow the contours of one of the most attractive golf courses in the area – the marvellous La Quinta Golf made up of three nine-hole courses and a first-class clubhouse that also forms the base for a driving range and academy. In addition, La Quinta is home to the five-star Westin La Quinta Golf Resort & Spa, and in the nearby valleys, a new extension of La Quinta is taking shape in the form of an eco-residential resort complete with a golf course and laguna lake.
Marbella Club Golf Resort
To indicate just how expansive the municipal area is, this exclusive country club linked to the famous Marbella Club Hotel occupies a series of valleys in the hill country just southwest of Benahavis. As a result, the villa plots are large and the country villas and deluxe apartment complexes enjoy space, lush green zones and amazing golf, country and sea views. Popular features are the clubhouse and horse riding centre.
Monte Mayor
Follow the road winding through a pine forest further into the hills and you come to Monte Mayor, another rustic country club set within beautiful open nature. There is a pueblo village with apartments and townhouses, but Monte Mayor is above all an area dedicated to substantial villas surrounded by large tracts of open nature and views, yet fifteen minutes from Marbella.
La Alquería
Coming down the hill towards the coast is La Alquería, a well-established residential area that still offers scope for the building of private villas. That said, there is a good selection of contemporary apartments and villas, with a golf course that runs between them in a scenic hill suburb close to the coastal area.
Paraíso Alto
Though it is mostly known as a hillside municipality just inland from the Costa del Sol, Benahavis' territory almost touches the shoreline on its western side. Here, within little more than a kilometre from the sea, you will find villas and a smaller collection of apartments overlooking the sea and the nearby El Paraíso golf course from within a gently inclined position roughly midway between Estepona and Marbella.
Puerto del Almendro
Turn uphill on the country road that eventually leads to the historic town of Ronda, some 50 kilometres away, and you reach the turn-off for Puerto del Almendro, a small but elegant residential area of charming apartments and private villas tucked into the folds of rolling hills. The views and sense of privacy are excellent, with many amenities nearby.
Benahavis Pueblo
Within and also surrounding the village of Benahavis you will find rustic apartments, townhouses and villas full of traditional Andalusian charm, though there are also contemporary apartments and large townhouses within walking distance of the historic centre. There is a driving range in the valley, and for those who wish to stay in this scenic spot there is the boutique elegance of the Amanhavis
Hotel near the centre of the village of Benahavis noted for its themed rooms and cosy atmosphere.
---
LUXURY PROPERTIES FOR SALE IN BENAHAVÍS
---
NewsletterBe the first one to receive our Property News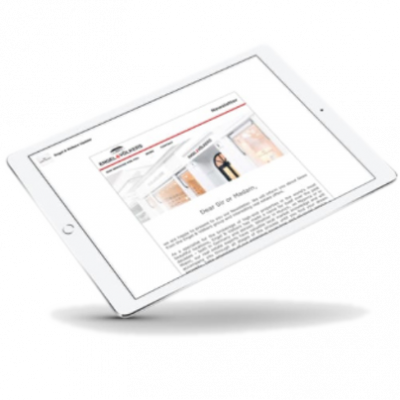 70% of the properties are sold to registered search clients.
Register here and receive our offers first.