LOCATION
Puerto José Banús, more commonly known as Puerto Banús, is a luxurious marina located in the privileged area of Nueva Andalucia, a few kilometres southwest of Marbella. This tourist enclave designed in the Mediterranean architectural style managed to become one of the largest entertainment centres on the Costa del Sol, achieving international fame and prestige.
---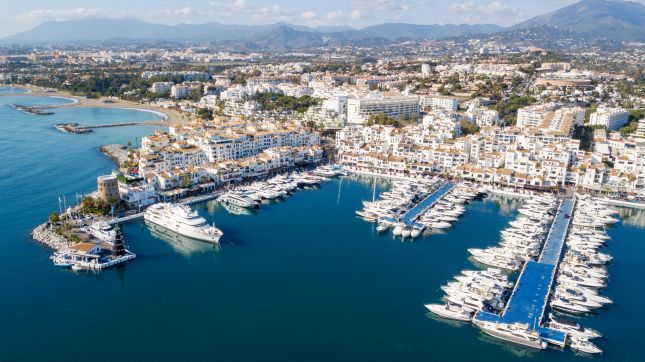 SETTING
Surrounded by many sophisticated shops and tourist residences, the luxurious Marina of Puerto Banús has become one of the most exclusive and glamorous enclave in the world, usually frequented by celebrities who have fallen in love with its luxury-village style and enjoy the harbour where the largest yachts are moored. Designer boutiques, sport cars' parades, exclusive nightspots and fine restaurants such as Los Bandidos and Picasso pizzeria abound, lining the water's edge.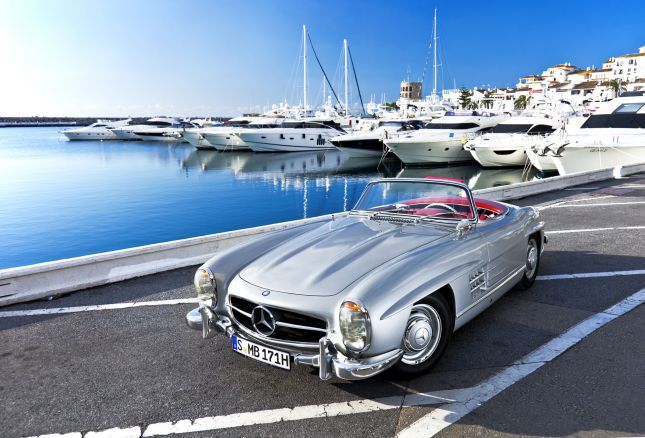 Among the many luxurious fashion boutiques, you will find Gucci, Dior, Louis Vuitton, Saint Laurent, Bulgari and much more! Between the harbour and the beginning of the Río Real river, lies a sublime beach of fine golden sand that stretches for 1500m surrounded by a maritime promenade where pedestrians like to enjoy the ideal weather of the Costa del Sol with the backdrop of La Concha mountain and have a rest in a trendy chiringuito. Besides the marina, you will find all kinds of amenities, especially a huge Corte Inglés department stores', which includes a supermarket and an infinite number of brands, where every purchase wish is fulfilled.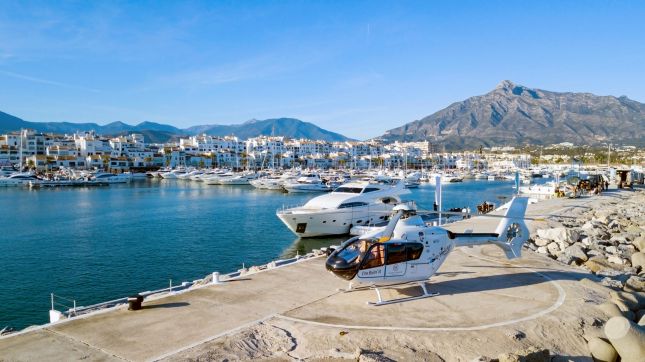 Origins
The luxury resort of Puerto Banús is particularly recent and its construction dates back to 1966 when the architect Noldi Schleck managed to convince José Banús to build an Andalusian village with a marina instead of simple residential towers without charm. Since its inauguration in 1970, it has been a genuine success and celebrities don't tire of the marina whom exclusive character flourishes continuously.
The complex is surrounded by luxury shops and a bronze statue of a rhinoceros by Salvador Dalí, which was donated to the city to mark the centenary of his birth. Without doubt, Puerto Banús harbour is the main sight of this area with its perfect combination of Andalusian culture.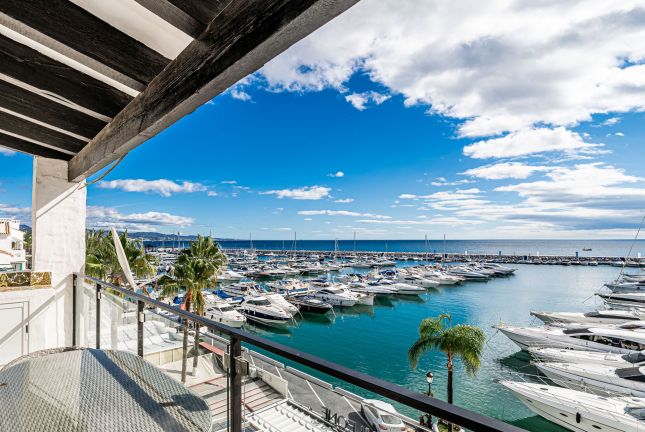 Property market
Puerto Banús is considered as a whole lifestyle and is mainly favoured by people who wish to be close to all amenities by experiencing the glamour of this location with its luxury boutiques, marina and fine dining restaurants while being close to the sea. Most of the area is characterised by beautiful frontline beach apartments, penthouses in secure gated communities as well as luxury villas with sea views and private lush gardens.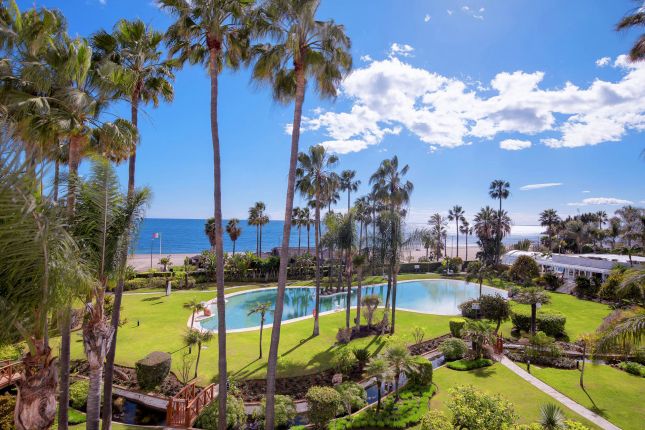 New Developments
Puerto Banús offers two thriving beachside developments with prestigious apartments, penthouses and townhouses located in the heart of Puerto Banús, allowing you to benefit from the surrounding amenities within walking distance.
Alcazaba gardens and Bahia de Banús both gather superb properties built with high-quality materials featuring magnificent facilities including swimming pools, lush gardens all within a secure gated community.
With a distinctive Asian influence in both its architecture and exotic gardens, the beauty of owning a property in Bahía de Banús is that all the exterior is taken care for you by the community garden and maintenance service, so you get all the benefits of owning a large villa with all the convenience of owning an apartment.
---
Urbanisations in Puerto Banús
Banús Bay
A stunning residential of luxury semi-detached villas and an independent villa, which represent exclusive homes by its modern aspect and all the vegetation that surrounds it giving way to a natural environment that blends perfectly with the landscape of Puerto Banus. Those design homes were built to maximize the comfort and privacy of the residents thanks to a meticulous attention to details. With large windows and open rooms, the architecture let the residents to enjoy the Mediterranean lifestyle, especially from the private natural grass garden.
Casanova
Casanova is the Costa del Sol's most elegant and sophisticated grand luxury urbanisation. Located seafront and a few steps away from the port of Puerto banús, it has a prime location in the midst of the Gualdalpin Banús 5 stars hotel and the renowned Ocean Club Marbella. This urbanisation has been built to satisfy the most discerning customer seeking the finest location with the highest specifications.
Los Granados
An exclusive residential complex located first line beach between Estepona and Gualdalmina that stands out from other properties by providing wonderful views over the Mediterranean sea. Built on the basis of quality and exclusivity, this urbanization is a real haven of peace that benefits from privileged direct access to the beach. Los Granados features unique facilities such as 24-hour security service, its large tropical gardens, outdoor swimming pools, heated indoor pool, spa area with Jacuzzi, sauna, steam bath, showers, UVA rays and gym.
El Embrujo Playa
El Embrujo Playa is located on the shore, making it simple to stroll to the beach and, of course, Puerto Banus and all its amenities. Considering its enviable location, the complex is really rather peaceful, with well-tended gardens full of tropical plants. Three blocks of three-story flats are available, with the penthouses featuring split-level living (duplex). Whether you prefer south, east or west facing terraces and a mix of 2 and 3 bedroom flats on all levels, you can be sure to find a flat to suit your needs.
El Embrujo Marbella
An incredible complex of apartments and penthouses near the prestigious Guadalpin Banús 5* Hotel, which means a short distance from the exclusive port of Puerto Banús where restaurants and luxury shops are flourishing. The urbanisation enjoys a privileged location and is less than 600 metres from the sea, making it possible to do everything by foot, which is a real luxury.
Gray d'Albion
A whole complex of apartments in a perfect location close to the port of Puerto Banús and the famous Plaza Beach Marbella, one of the most popular beach clubs in Marbella. The urbanisation is right on the sea front offering incredible views and a perfect living environment being close to everything you could wish for, including restaurants, shops, bars and beach. The perfect place for holidays and permanent living. The complex boasts great features including a solarium, 24 hour security and reception, barbecue and a beautiful garden.
Jardines del Puerto
This gated community of apartments has an incomparable charm with its enchanting gardens full of flowers and fountains. Everything is possible in this complex with its superb facilities where you can play tennis, swim in the outdoor pool or just relax and enjoy laying on the sun lounges on the gardens.
Luguna de Banús
This incredible urbanisation counts fabulous apartments and penthouses meticously planned and designed with a perfect attention to details. Whether it be flats or penthouses, they benefit from a wide range of features. Laguna de Banús is also one of the very few urbanisations to incorporate not only an indoor pool but above all two outdoor swimming pools both situated in an exotic Oriental style garden.
Las Gaviotas
A luxurious Mediterranean-style complex in the most sought-after areas of Puerto Banus by being close to all exciting amenities and leisure centers. A wonderful complex which blends tranquillity and glamour in luxury apartments of two and three bedrooms.
Villa Marina
Exquisite villas very well equipped with large terraces, pools and gardens which invites the residents to enjoy and relax. Located beachside and close to all amenities, the complex that exudes tranquillity is protected with 24-hour security for more serenity.
Las Mimozas
An exclusive complex with a private garden for each apartment located on the ground floor and broad terraces for all the penthouses. On-site facilities are plentiful with a sizeable lake-style outdoor pool and a private spa with a gym, jacuzzi, Turkish bath, sauna and heated indoor pool. Each property comes with underground parking and a storage room.
Malibu
This gated community gathers superb apartments and penthouses located beachside and features a 24-hour security, well-kept tropical landscaped gardens with walkways and direct access to the beach. While it enjoys a superb location, its characteristics are much more impressive with its two swimming pools and indoor Jacuzzis to get fully relaxed.
Marina Banús
A superb complex in a prime location at the heart of the privileged Puerto Banús, only 50 meters from the port and surrounded by cinemas, shopping centers, restaurants and of course the beach. The complex includes apartments where the owners are able to experience the paddle court and the beautiful large swimming pool manned by a lifeguard. Depending on the apartments, they all have spectacular views from their terraces: the sea, the harbour, the beach, the city, the mountains, the gardens or the pool.
Playa del Duque
Definitely the most prestigious and finest development of beachside luxury apartments and penthouses in Puerto Banús. The whole residential and family complex is synonym of comfort and comes with apartments that benefit from a wealth of amenities including 30,000m2 of garden where 3 swimming pools have been installed as well as 2 chiringuitos and a direct access to the beach. All the complex has been designed to provide the maximum functionality and privacy in a perfect location near convenience stores and main spots within walking distance.
Playa Rocio
This complex boasts its direct access to the beach and promenade alongside. Playa Rocio dives its residents into a real dream being within walking distance from all amenities which represents an ideal location for year round living. Perfectly kept, the apartments in this complex feature large gardens and high security.
Tembo
The gated complex located only a few steps away from Puerto Banus beach and port was built in a contemporary modern design. Situated within a beautiful building, it comprises communal swimming pools, sauna, Jacuzzi and changing rooms, not to mention a high-security in each part of the complex.
Terrazas de Banus
Just behind the beach, stands this incredible complex of flats and penthouses with 24-hour security but most of all its garden of a total length of 1km. The latter consists of two communal pools very pleasant with the prominent heat of the Costa del Sol.
Ventura Del Mar
Featuring an excellent level of security and tropical gardens, Ventura del Mar is set on the promenade of the Puerto Banús area. All units have a fully equipped kitchen and the high luxury urbanisation comprises a games room as well as a spa and gym center. Its ideal location makes these apartments highly sought-after where the magnificent gardens harmoniously combine with the architecture of the complex.
Urb. Jardines Ventura del Mar
Occupying the best location right in front of the beach, Jardines Ventura del mar has been the most prestigious development of the area thanks to its excellent location at a stone's throw from Puerto Banús, in a very tranquil setting. A luxury complex which offers a direct access to the beach and the promenade but you will also enjoy staying in the highly pleasant urbanisation which is landscaped with streams and ponds as well as relaxation areas and playgrounds for children. Spacious and luxurious 2 or 3 apartments and duplex penthouses with a kitchen fully fitted Siemens in a first-class seafront complex.
La Herradera
One of the most incredible beachside urbanisations composed of apartments in a gated complex with 24 hours conciergerie and daily maintenance. A real haven of peace comprising a wonderful garden, direct access to the beach as well as only a 10 minutes by foot from the restaurants.
---
LUXURY PROPERTIES FOR SALE IN PUERTO BANÚS
---
NewsletterBe the first one to receive our Property News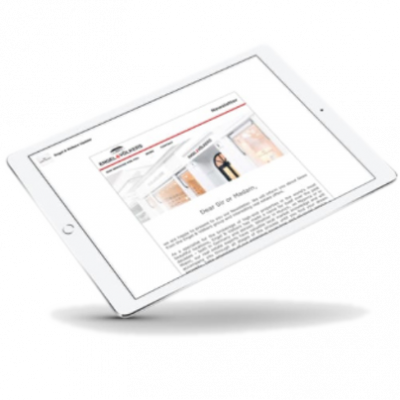 70% of the properties are sold to registered search clients.
Register here and receive our offers first.