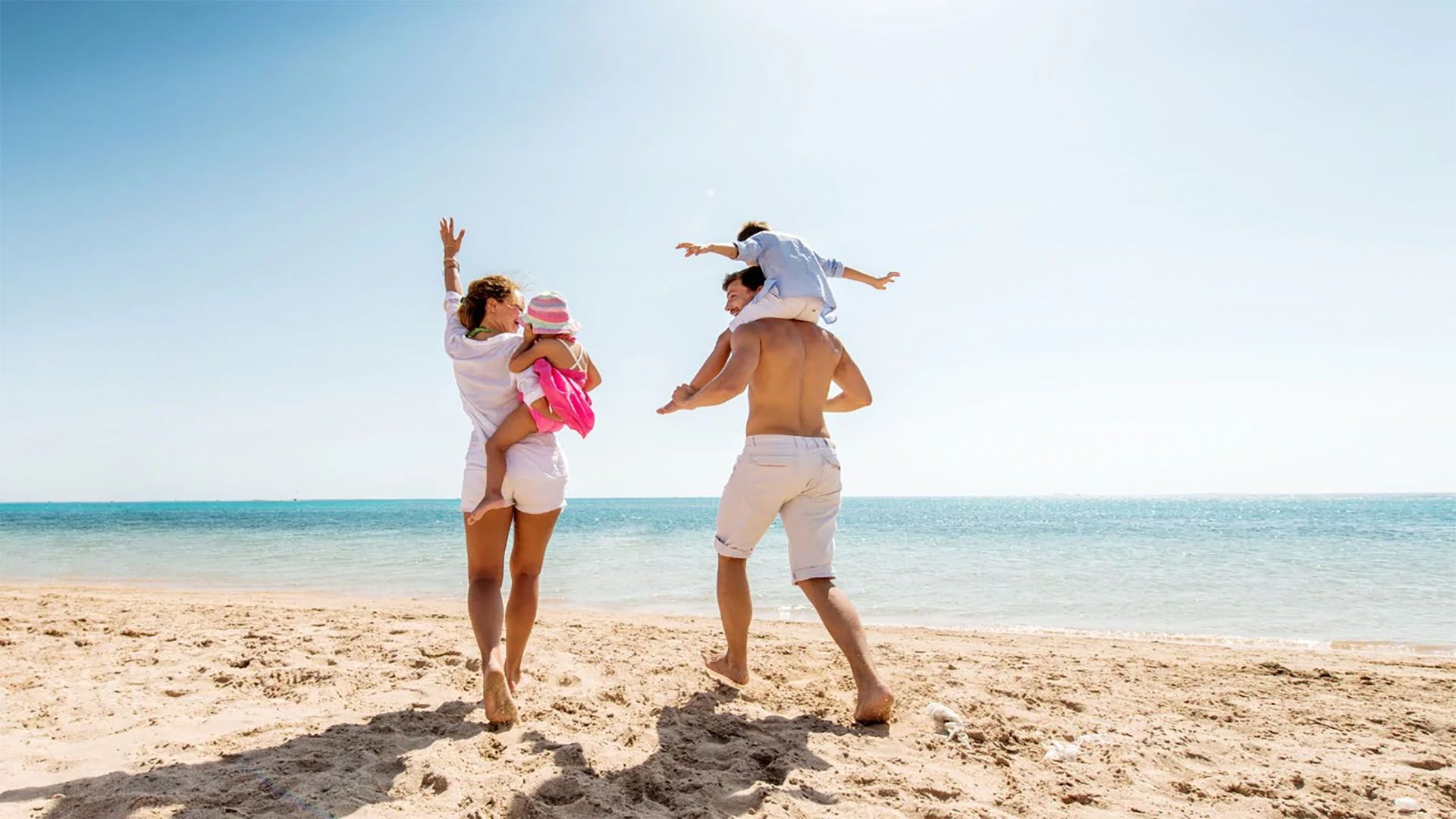 Enjoying Marbella with the family
Before discovering the opulent city of Marbella with its many different neighbourhoods, many people wonder if it is suitable for families and parents wishing to stay with their children. Indeed, the city is known for its nightlife and beach clubs such as Nikki Beach in the east side of Marbella, but of course families are welcome and you will discover through this article that there are numerous activities to do with the family!
Dominated by the imposing La Concha Mountain, Marbella is the ideal place for outdoor activities and active tourism.
From sports and cultural activities in the hotels to outdoor excursions, you will discover beautiful places while relaxing and strengthening family ties. If you are a golf enthusiast, Marbella is also perfect for playing golf, with a multitude of renowned golf courses located in the Golf Valley. You will discover that there are numerous activities to explore in Marbella!
Exclusive resorts suited for children
This luxury trip with the whole family starts when you arrive at Marbella's most exclusive hotels and resorts, which are packed with activities for children! While parents enjoy their free time, the little ones have access to a wide range of activities and play areas suitable for all ages, such as sports activities, private tennis and golf lessons, arts and crafts, and babysitting services.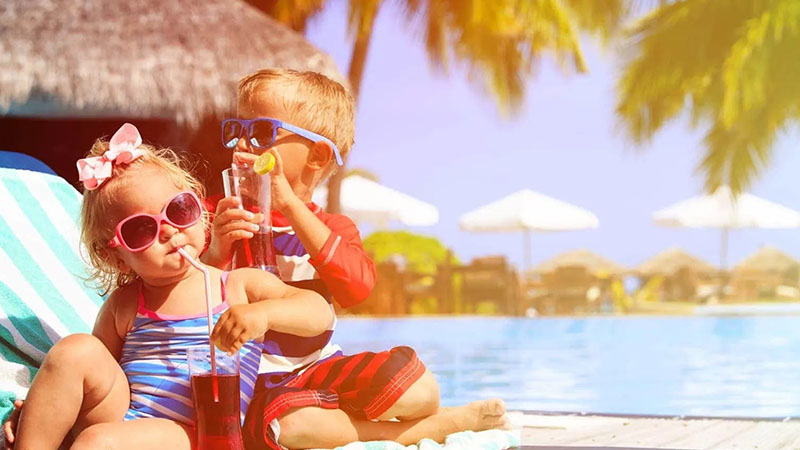 Family activities in Puente Romano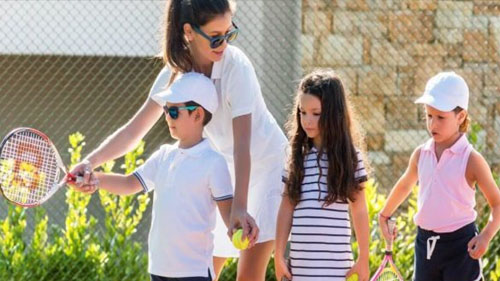 With an Andalusian village style, the highly sought-after luxury beach resort of Puente Romano immerses you in a unique atmosphere and your children will be no less impressed by the endless activities to do as a family. Indeed, holidays are also an opportunity to get together as a family to share moments and memories together.
With your children, you can experience great pony and donkey rides. Depending on the child's level, it is possible to ride a horse or learn the basics of jumping in one of the professional riding schools. An unforgettable day of fun where you can get close to the animals and learn how to look after a horse, feed it and help with grooming, all in an environment supervised by a riding instructor. This excursion is suitable for children from 3 years old and includes a transfer.
It is also possible to relax as a family with a 1 hour yoga class taught by an expert teacher to enjoy the peace and quiet before starting the day on top form. All members of the family can enjoy this private relaxation session and, of course, babies and pregnant women are welcome.
Discovering Marbella also means enjoying the coastline and admiring the sea and the wonderful scenery from above. The Puente Romano complex offers a family bike ride along the endless coastline between Puerto Banús and the charming old town of Marbella.
Children can also learn to play tennis at the world-renowned Puente Romano Tennis Academy, which offers courses for all ages, from 3 years old to adults. It is also possible to enrol in courses throughout the year, as well as an intensive programme during the summer for those who are more passionate about tennis.
Then, at any time of the day, you may discover for yourself the subtropical park surrounding Puente Romano; a real moment of incredible discovery with your family, where every wallk through the garden will surprise you with its infinite number of different species of plants from the five continents.
Finally, as the hotel is located right in front of the sea, you will be able to take full advantage of the many water activities such as surfing, kayaking, diving, boat trips and much more!
The resort also features a Kids Club offering various outdoor activities, games and crafts, as well as private lessons from international school teachers, which aim to give them more knowledge in various school subjects, with the possibility of continuing the courses online after the stay at the hotel.
Developing children's creativity at the Marbella Kids Club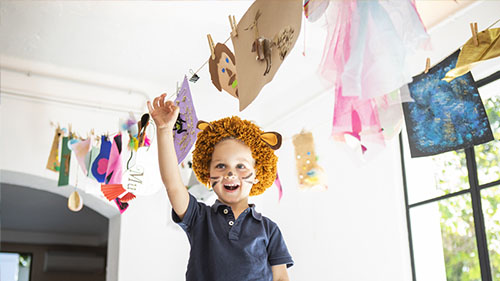 The prestigious Marbella Club hotel, renowned and sought after for its prime location on the Golden Mile beach, has set up a mini-village dedicated to children and supervised by a passionate team of bilingual teachers and guides. At the Kids Club, each child has the opportunity to discover themselves and their creativity in a fun and joyful atmosphere through various indoor and outdoor workshops.
Indeed, the Kids Club offers manual activities such as plastic arts, music or a perfume and candle creation workshop starting with the collection of herbs in the Marbella Club's "herb garden".
For little gourmets, the hotel's wellness chef invites children to participate in the discovery of the flavours of Andalusia through healthy and entertaining recipes.
Also in connection with the discovery of local ingredients, the Kids Club's vegetable garden welcomes children to raise awareness of good sustainable food but above all to learn how to grow seasonal vegetables.
The Kids Club not only offers manual activities but also sports sessions with the possibility of paddle boarding, canoeing and dancing.
The Kids Club is open every day of the year and is not only for hotel guests. There are different types of membership for children between the ages of 4 and 14 who wish to use the facilities at weekends or during school holidays.
A luxury all-inclusive resort tailor-made for families at Ikos Resort Andalucia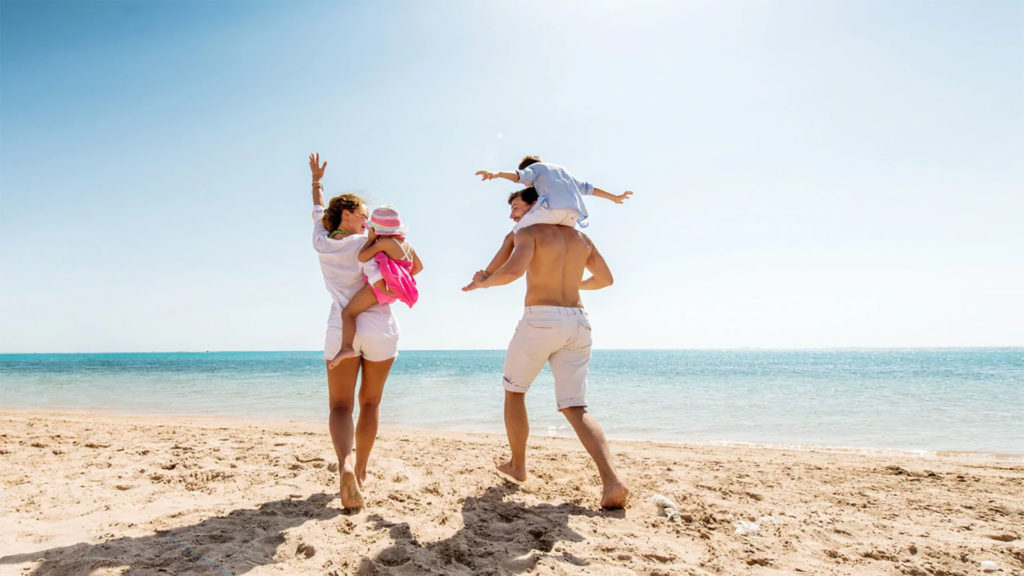 At Ikos Andalucia you can enjoy a wonderful family holiday in a splendid all-inclusive luxury resort. The hotel boasts more than just a stunning beach location and views of the crystal blue sea, it is also close to the centre of Marbella and the old town of San Pedro de Alcántara.
This Mediterranean hotspot has an exclusive, all-inclusive Infinity Lifestyle concept, which offers families countless complimentary VIP services, including Michelin-starred meals, a selection of 300 foreign and local wines, as well as private access to a heated indoor swimming pool and an entire beach area equipped with refreshments and a babysitting service on the beach (supervised swimming for 30 minutes a day from the age of 4).
The hotel has several offers including the Deluxe collection which is particularly advantageous for families. It provides access to a private pool and beach area, as well as a variety of services such as children's movies, PlayStation (on request), fast check-in and check-out, spa treatment, special dinner on the beach, a free bottle of Taittinger champagne on arrival, and much more!
If you, as an adult, would also like to take some time for yourself, Ikos Resort has a full-service kids' club with different play areas for every age group. Children have access to a plethora of outdoor and indoor activities that are supervised by qualified childcare professionals.
Children's club right in front of the sea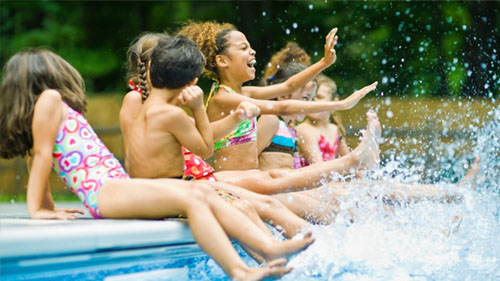 The Melia Don Pepe Hotel pays special attention to children and has recently opened a kids' club in the hotel's garden. While parents enjoy the hotel's exceptional services such as the Clarins spa, fitness centre, swimming pool and tennis court, children can have fun with their own activities. Every day, different activities are offered by the hotel such as competitions, themed creative activities, theatre, drawing… to guarantee hours of fun! To let off steam and make friends, the children also have access to the swimming pool, a ping pong table and a swing area, all in an idyllic atmosphere, right in front of the sea!
Enjoying outdoor activities with your family
Looking for a family getaway? Enjoying nature through active tourism with the whole family is a guarantee of bonding and fun. The Costa del Sol is full of exciting outdoor activities, of which the following are a selection: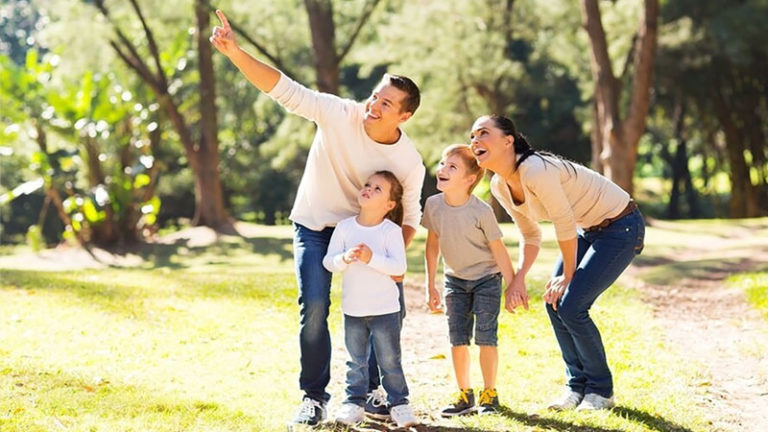 Find thrills among the trees with the Elviria adventure park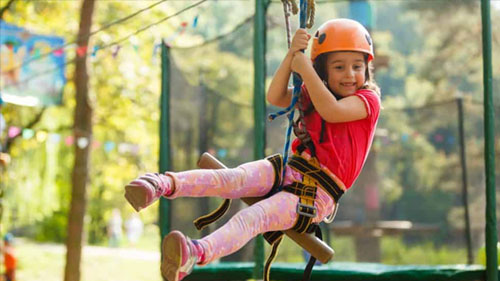 For those looking for thrills or a fun, sporty and original activity, the Adventure Park in Elviria is an activity not to be missed.
The Aventura Amazonia Marbella is the largest adventure park in Andalusia with 6 courses between the trees corresponding to different levels of difficulty, but above all it has the longest zip line in Andalusia with a length of 240m. Guaranteed thrills for the whole family!
You will be able to enjoy the 24 zip lines distributed along the routes, where everyone can advance at their own pace in a safe manner, all in an exceptional natural setting.
Moreover, the park is strategically located, just 500m from the beaches and easily accessible from the main coastal towns nearby.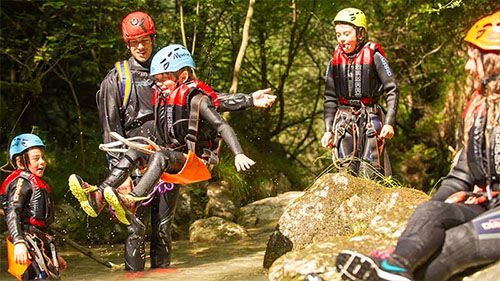 Canyoning in the Benahavis area is an incredible activity to do with the whole family! Just 15 minutes from Marbella, it has by far some of the best descents on the Costa del Sol and you will be amazed by the stunning scenery and variety of canyons that delight both professionals and tourists alike.
If you and your family love adrenaline activities, canyoning in Marbella is for you!
The descent of the canyon with the family is done with a guide who accompanies you during the whole activity in case of problems, but for the less daring or small children, it is also possible to follow a water route made of natural slides where you can always contemplate a unique landscape.
Challenge the family with an innovative activity: cable-skiing in San Pedro de Alcántara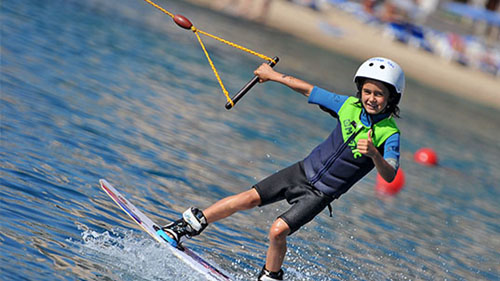 Although cable-skiing may sound like water-skiing, it is actually a slightly different activity that consists of a cable ski system that gently pulls skiers along for ease, ideal for novices and thrill-seekers.
Located in the heart of the Las Medranas Natural Park, this cable skiing facility is open all year round and provides all the equipment according to the level of each person.
All members of the family are invited to have fun in this water sports centre! Depending on your mood, you can go water-skiing, or for the more adventurous, you can try jumping in the air, or even watch the show from the poolside loungers!
Other less intense but equally energetic activities are also available to enjoy together on the lake, such as paddle surfing and kayaking.
Enjoying the beach with all the family
Let's not forget that Marbella stretches along the Mediterranean Sea with an infinite number of fine sandy beaches, each with its own charm, so this is an opportunity to fully enjoy them.
A wide range of activities can be enjoyed on the beach: boat-drawn buoys, fishing with the family, snorkelling to observe the seabed, visiting the surrounding area by sea, renting sun loungers on the beach or taking a boat trip to admire the beauty of the Costa del Sol's coastline. There is no shortage of boat rental companies in Puerto Banús, but if you are a family, it is best to choose one that offers fun activities for your children once they are on board.
A day at sea with your family is the best way to recharge your batteries and enjoy unforgettable moments together!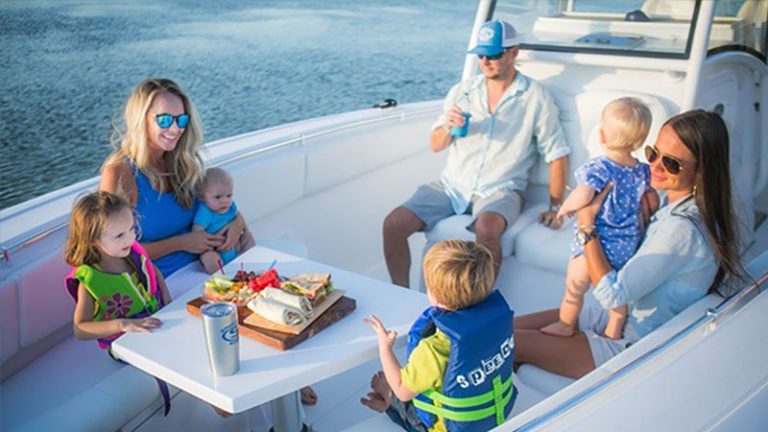 Discover fishing with an experienced crew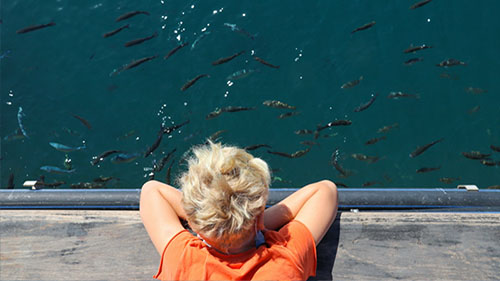 If you want to introduce your children to fishing, this is a great activity to discover while having fun! You can initiate your children to fishing through an excursion on a fishing boat where all the equipment is provided, be it fishing rods or bait. You will be accompanied by the captain and other members of the crew who will show you the secrets of fishing by taking you to the best spots for a full immersion with drinks and snacks included.
Gibraltar is one of the must-see destinations in southern Spain! The main attraction for families in the British possession is the famous Rock of Gibraltar, once considered one of the two Pillars of Hercules, the other being Jebel Musa on the northern coast of Morocco. During the visit, you will admire the incredible landscape and meet the famous macaques that inhabit the nature reserve.
A dolphin watching tour is, of course, one of the must-do activities in Gibraltar for young and old alike! Excursions, as well as diving and sailing activities are offered from Gibraltar's marinas.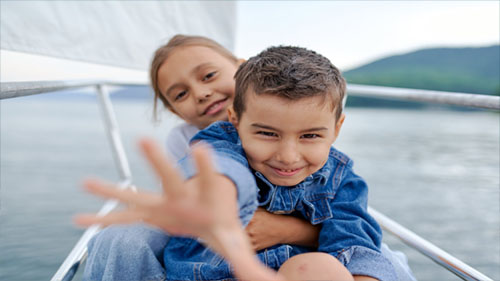 Kalinka Hermann | 12/Aug/2021

Contact us now
Blvd. Príncipe Alfonso de Hohenlohe CN 340 KM 178,2
CC La Póveda, Local 5 · 29602 Marbella · Spain
Phone +34 952 868 406