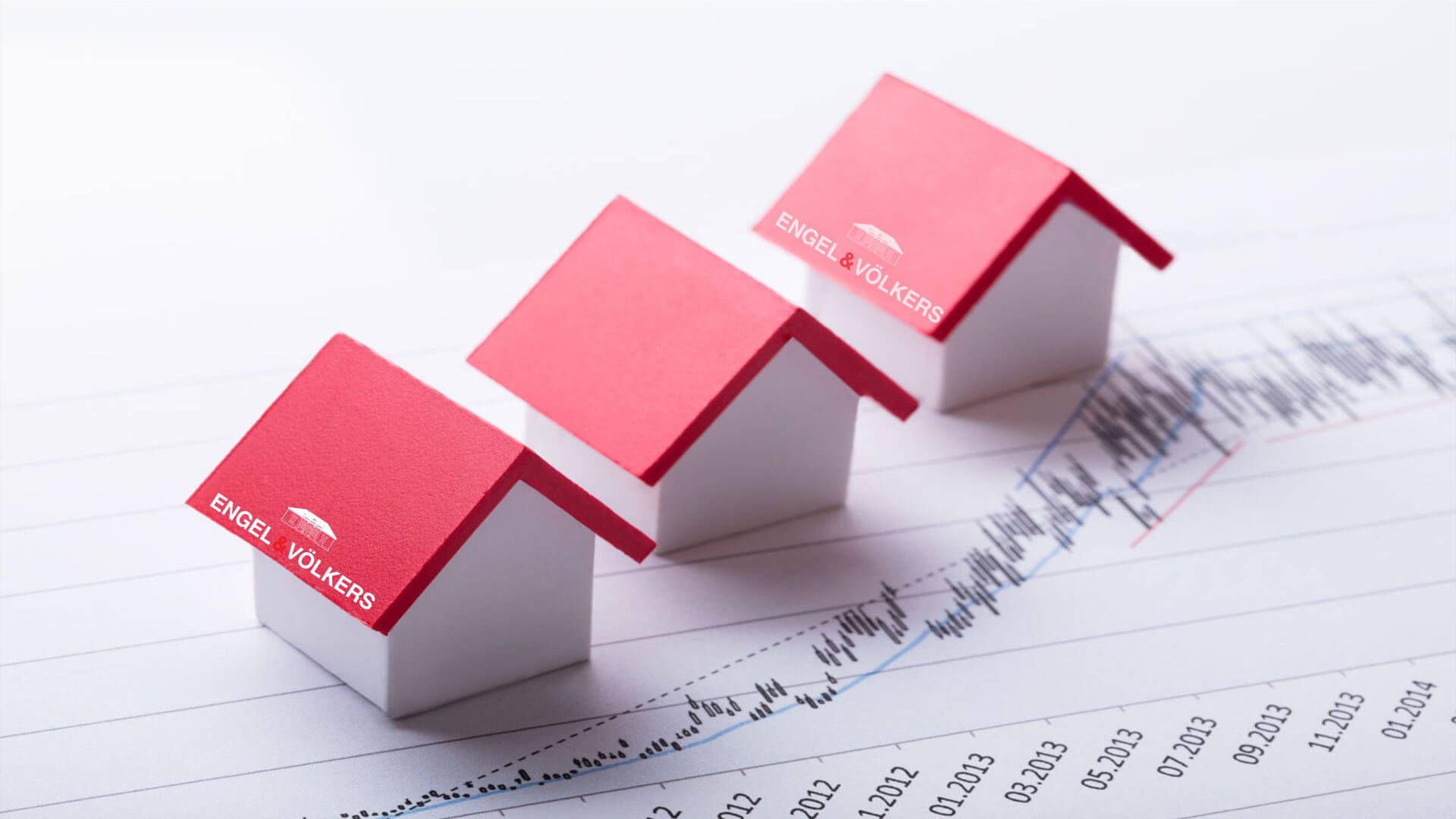 MARBELLA MARKET REPORT 2020
We are extremely pleased to inform you that according to our data, as well as the official data being released, the real estate market in Marbella has been hardly affected by the health crisis.
Our 4 offices in Marbella are reporting to have more than doubled the number of enquiries in 2020 and it is with great pleasure that we can acknowledge a growing interest of serious buyers searching for a residence.
______________________________________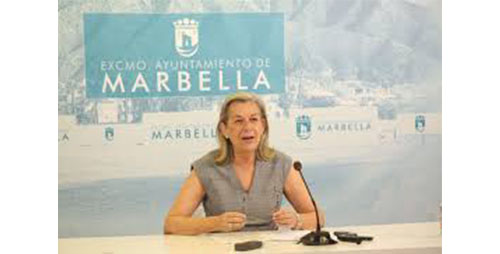 The Marbella Town Hall has highlighted that the real estate sector "is maintaining and even growing", as can be seen in "the increase in revenue so far this year and the increase of almost 13% in the revenue forecasts for 2021 for the Construction, Installations and Works Tax (ICIO)", according to the delegate for Town and Country Planning and Housing, María Francisca Caracuel.
The councillor pointed out that the delegation has observed that:
"The greatest demand corresponds to a medium-high level of housing and a profile of Spanish and European applicants who are looking for a second home with the aim of moving to live in Marbella to live a good part of the year and develop their professional activity from here through teleworking".
The president of the association 'Leading Property Agents', José Carlos León, has pointed out that "Marbella as a brand has re-emerged", with an "increase in sales from July to October of around 15% in the high-end segment" with properties of "1 million euros and upwards".
León pointed out that the health and economic crisis has not led to a drop in prices, highlighting that "in the luxury segment prices have remained stable" although he indicated that the cost of resale properties "is adjusting a little to the market" by between 5 and 10%.
The forecasts for recovery are, according to the expert, in the form of a "prolonged U" and he estimates that from February there may be "a rebound or champagne effect where we explode in the second or third quarter of 2021".
The most sought-after properties nowadays have to do with the demands of the new normality, with spaces for teleworking and enjoying the open air with terraces, solariums, gardens, "with views, with golf courses or on the beachfront", according to the president of the Andalusian Federation of Residential Developers and Tourism, Ricardo Arranz, who pointed out that in the luxury segment "neither sales nor interest have fallen".
______________________________________
ENGEL & VÖLKERS GROUP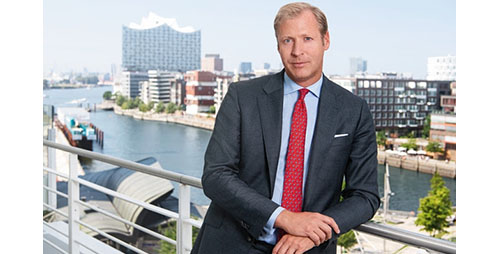 In 2020, the Engel & Völkers Group increased its commission revenues by approximately 14 percent to 937.4 million euros (2019: 820 million euros). This represents a significant rise in turnover once again for the globally operational real estate company, in spite of the coronavirus pandemic. "This positive development of our business is a direct result of the consistently high quality of service we provide to our clients, even during all the uncertainty of the past year," says Sven Odia, CEO of Engel & Völkers AG, adding:
"Applying a combination of innovative, high-tech tools and top-quality personalised advice, we managed to maintain our business operations during the periods of lockdown and expand our global network to more than 13,500 people. In some locations and core markets, we even exceeded past results and set new turnover records."
International real estate markets prove stable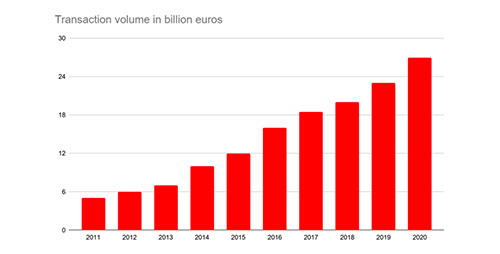 The number of property transactions declined slightly in some markets as a result of the coronavirus pandemic. Prices remained at a steady high, however, in very good locations. The international real estate company brokered a total transaction volume of 27 billion euros in 2020 (2019: 23 billion euros). Buyer activity among national and international clients has returned, particularly during those months when protective measures were eased and travel was less restricted.
Outlook: Further growth planned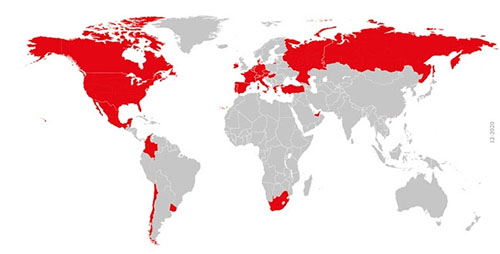 The Group's positive business development over the past year gives Engel & Völkers cause for optimism in 2021. One consequence of the coronavirus crisis has been that interest has increased in a home life that is both appealing and secure. "The demand for real estate has been given another boost and we are registering a continuously strong interest in premium properties. Houses and freehold apartments prove time and again to be stable investments, particularly during times of crisis. We intend to continue on our course of success this coming year and take our global business to the next level," says Sven Odia.
______________________________________
ENGEL & VÖLKERS MARBELLA
Since the arrival of confinement, and contrary to forecasts of price falls of up to 25 per cent, Engel & Völkers Marbella received an unusual number of enquiries, up 68 per cent on previous year. The volume of enquiries between July and September increased by more than 70 per cent compared to the same period last year, while in October they grew by 30 per cent compared to the same month in 2019. In fact, the company has recorded an 18% increase in sales between July, with the end of the lock-down, and the beginning of October compared to the same period last year.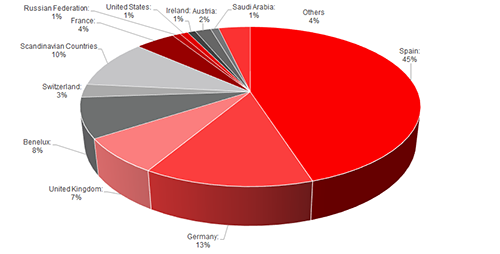 As for the origin of the clients, the national market has taken over in search of the comfort and better quality of life offered by the Costa del Sol, representing 52% of buyers during the penultimate quarter of 2020, compared to 24% in 2019.
The overall figure shows a national market that has taken over representing a 45% of the total volume of enquires, followed by Germany, Scandinavian countries, Benelux, Uk and France.
New clients choosing the Costa del Sol are particularly interested in villas between 2 and 3 million euros, where a 38% increase in enquiries was detected. In the case of properties above this price, enquiries have increased by 19% compared to the same period last year.
Due to past confinement, interest is concentrated on properties with a private gym and more entertainment space. Also, seven out of ten enquiries were for new or fully renovated and furnished properties with private gardens and pools.
______________________________________
ONLINE CHANNELS
In a world turning even more online, Engel & Völkers Marbella has follow a clear strategy incrementing the online presence by 44% during the year 2020 and representing nowadays a 35% of our gross income.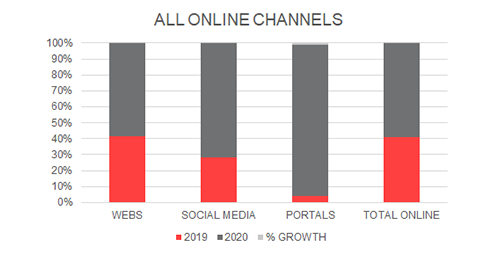 Far from cutting expenses, our investment has grown a 12% but the difference comes when looking at where we invested.
Our online budget grew a 35% in detriment of the offline costs that came down around a 6%.
While our main online investment in 2019 was dedicated to CPC campaigns (Cost per click) with an 80% of the total online budget we have managed to improve our overall online results by reducing a 35% this expenditure item in 2020.
How did we achieve this?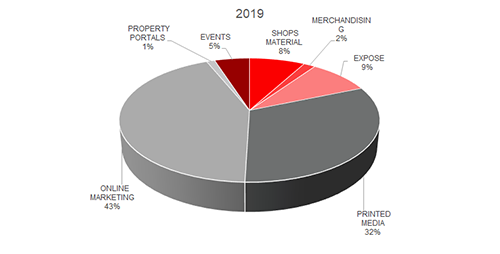 During 2020, we have made a clear commitment to increase our presence on portals and improve the visibility of those we were already working with and which were performing well. In this way, we have gone from investing 1% to 19% in these portals, obtaining an increase of more than 2,000% in results and a ROI of 744%.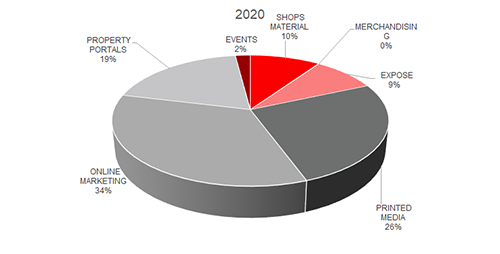 Another of the most important items of this year 2020 has been the development of our new website Marbella-ev.com that has been designed to improve the user experience. In the relaunch of the new site we have dedicated 1,700% more than the previous year and results will be measurable during the next 2021.
______________________________________
SOCIAL MEDIA CHANNELS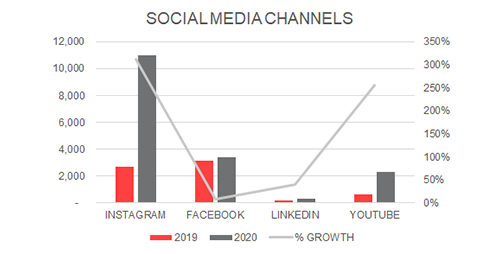 Engel & Völkers Marbella clearly dedicated itself to Instagram's social network. In this year 2020 our Instagram group has risen from 2,600 followers to 11,000 organic followers.
Our next focus is on YouTube. With the number of virtual visits taking the lead over our clients' inability to travel, our channel has gone from 645 followers to 2,300 followers in just one year.
The increase is explained by the new videos that we made, which introduce the presenters to perform property viewing. This measure has proved to be more successful, hitting up to 100,000 views in the case of Villa Casa del Mar, whose sale was formalized last 2020 at the highest selling price ever reached in Marbesa.
______________________________________
ENGEL & VÖLKERS
THE MARKET LEADER IN THE LUXURY SEGMENT
Despite the current health crisis, our highest sales price obtained this year was €6,900,000 and the average sales price of all transactions obtained remains at a not inconsiderable €1,400,000. This number represents the average selling price of all property types, i.e. not only villas, but also plots, flats and townhouses.
Engel & Völkers always on top of innovation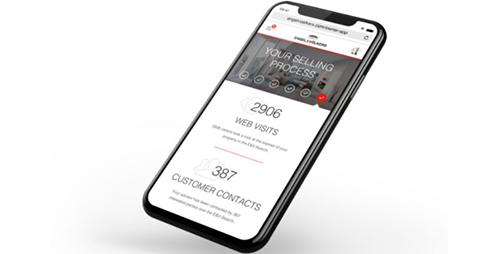 Engel & Völkers has always been at the peak of innovation as shown by our homeowner app, which despite having been launched in 2018 is still unrivalled in the market.
Through our app the owner can monitor the process of selling their property with one click at any time and from anywhere in the world, making Engel & Völkers the best partner for the sale of your property in today's times with numerous travel restrictions.
Nathalie Dorpinghaus | 28/Jan/2021

Contact us now
Blvd. Príncipe Alfonso de Hohenlohe CN 340 KM 178,2
CC La Póveda, Local 5 · 29602 Marbella · Spain
Phone +34 952 868 406