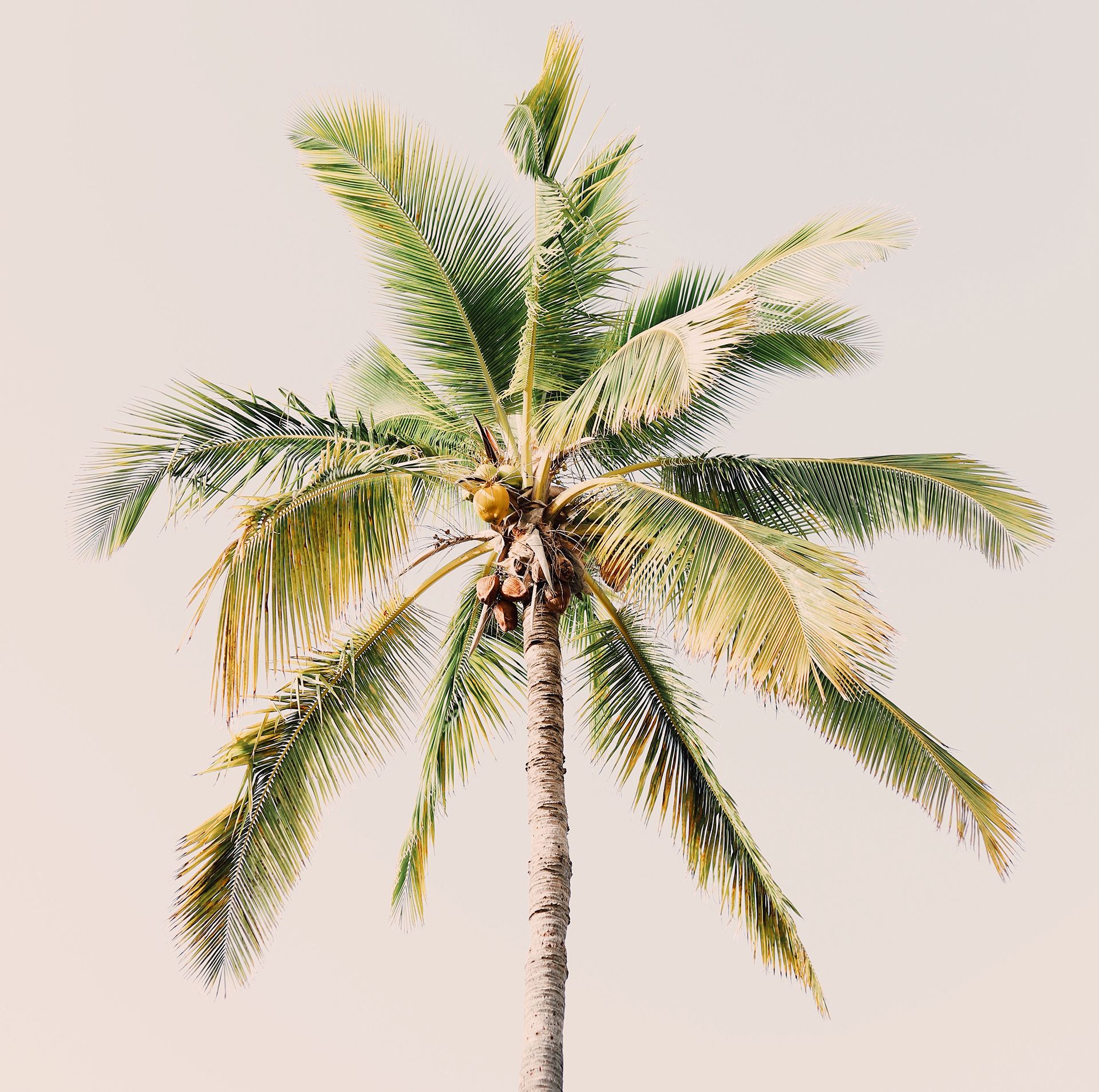 Marbella the perfect destination – all year long
Partially due to its very mild winters and warm to hot summers, Marbella is a stunning destination, hence why it just recently was elected as The Most Exclusive Destination in all of Europe. That being said, one would be wrong to simply mistake the lack of climatic shifts as an indicator for a lack of seasonal variety. Quite the contrary, Marbella offers a plethora of seasonal leisure activities as well as festivities and cultural events, all topped off with exquisite Andalusian culinary treats. Indeed we know from our mainly international clientele that it is this unique selling proposition that allured them to Marbella in the first place. We feel even more validated in our claim that Marbella is an exquisite destination all year long, because we often times learn from our buyers that their initially purchased "vacation" villa now serves as a primary residence for their entire family. In short: Marbella grows on you, no matter the season! Let Engel & Völkers Marbella be your personal tour guide and take you on a stroll through the seasons…
If you now, however, wonder if you have the right wardrobe for our little excursion let's take a quick deep dive into Marbella's climatic conditions. As already mentioned winters are very mild and summers are warm to hot. The Köppen climate classification (one of the most widely used climate classification systems) considers Marbella as a Csa destination, also known as hot-summer Mediterranean climate, in the same grouping one finds locations such as Perth-Australia, Tel Aviv-Israel or Los Angeles-USA.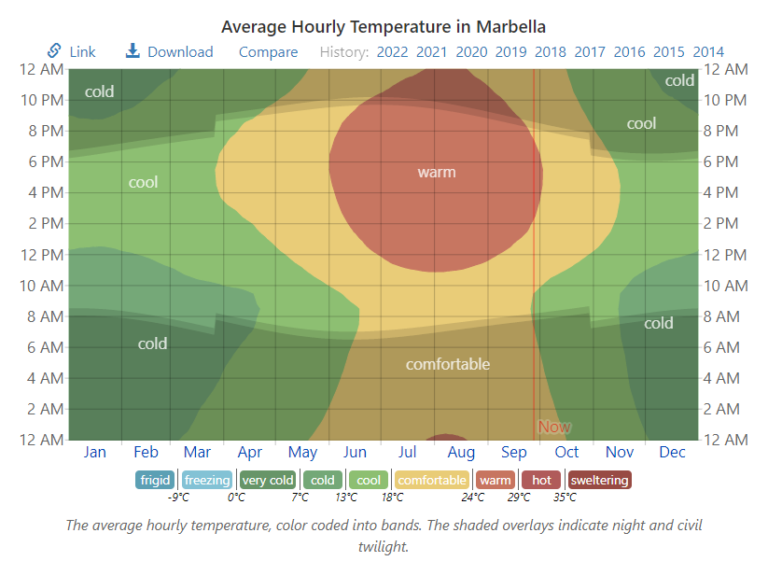 As one can comprehend from the chart, a reasonable drop in temperatures can be noticed for the winter months that start in November and last till March. Nevertheless the temperatures don't ever drop below the 9°C mark and can easily even during these months reach highs that would be considered as superb spring conditions in Central Europe.

If you're curious to know how the climate of Marbella contrasts on a yearly bases to your current location then click here.
Autumn
Autumn in Marbella is a truly glorious occasion and indeed many residents prefer this season over summer. Particularly the ones whom have the privilege to call Marbella their home are usually glad to regain some control of their town after the bustling summer months. Aside from the fact that streets are less crowded now the weather is also much more favourable for outdoor activities, gone are the days of lazy pool side lounging and it's time to venture out!
A terrific day trip Engel & Völkers Marbella recommends to anyone with an affinity to history and architecture is a tour of Malaga's Alcazaba y Castillo de Gibralfaro. Alcazaba is an Arab fortification that dates back to the 10th century when parts of the Iberian Peninsula were under Muslim rule. Interesting from an architectural point of view are the apparent similarities to the famous Nasrid palace, namely the typical courtyards and sweeping arches.
Should you be more of a Jazz lover we can warmly recommend the Malaga Jazz Festival. This year it will take place for the 36th time and lasts from the 3th to the 9th of November.
Regardless how your sublime autumn excursion shall look like, once back in Marbella conclude the day with some delicious Pescaíto frito or pulpo a la parrilla at your favoured Marbella beach side restaurant.
Winter
Just because there is no snow in Marbella there certainly is no lack of cheerful Christmas spirit! In addition Marbella is also the perfect winter getaway for anyone, aiming to soak up some well-deserved sunshine prior to facing the dreadful weather back home again. Be it for a short escape or an extended stay in one of our rental properties – if you are located in Europe, Marbella is only a short flight away and, unlike other destinations that offer barefoot walking on the beach in December, we do not come with a jet lag.
A visit to the Plaza de los Naranjos and other squares in the Old Town of Marbella should absolutely be on anyone's "to do list". While the Old Town of Marbella is an absolutely enchanted place during any day of the year, it now resembles a real Christmas wonderland. More than 1 million light bulbs illuminate the romantic alleyways and the scent of hot chocolate and rosquillas (authentic Spanish pastry) is ever-present. Also the Christmas market in Puerto Banús should not be missed. Dreamy miniature chalets line the streets here and one can also enjoy some ice skating on one of the various rinks.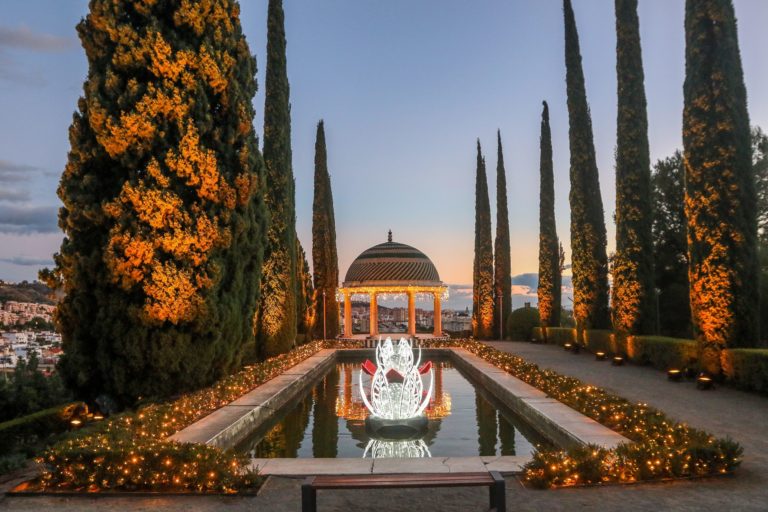 Whomever now still struggles to feel the Christmas spirit, we recommend a short trip to Malaga's Christmas light show, its pure magic! This year it will take place from the 8th of December to the 5th of January. Over the recent years the light show transformed itself into a real virtual experience, there is 3D video mapping, sound effects and image projections onto building facades. The 2 million LED lights are usually woven into elaborate motives and every year a new theme is presented. Finally, visitors can pay a visit to Santa Clause himself at Muello Uno in Malaga (near the Pompidou Centre). Aside from a stunning Christmas market there are also numerous snow machines that sprinkle the market with a flurry of snow.
Spring
After a short winter, temperatures start to climb quickly into the 20°C again, soon the lushes' cherry trees start to blossom and spring is now truly in the air! Marbella offers a broad spectrum of experiences and activities during this season and Engel & Völkers Marbella is keen to present you with our top picks!
The Christmas season is oftentimes synonymous with culinary overindulgence, hence why we would like to recommend an excursion to LLanos de Juanar. Here one finds a diverse flora and fauna and has the opportunity to witness the local wildlife, as this area is home to mountain goats, various birds and even rare eagles. One of the advantages here is that the park offers six different routes that all vary in difficulty and length, ergo no matter what you're training level is, there will be an adequate route for you. For the more adventurous ones (unless you don't suffer from vertigo), we highly recommend Caminito del Rey which is located a bit inland from Malaga. Depending on your physical condition, the trail lasts anywhere between two and three hours and the pinnacle will be a suspension bridge over the Naranjo River.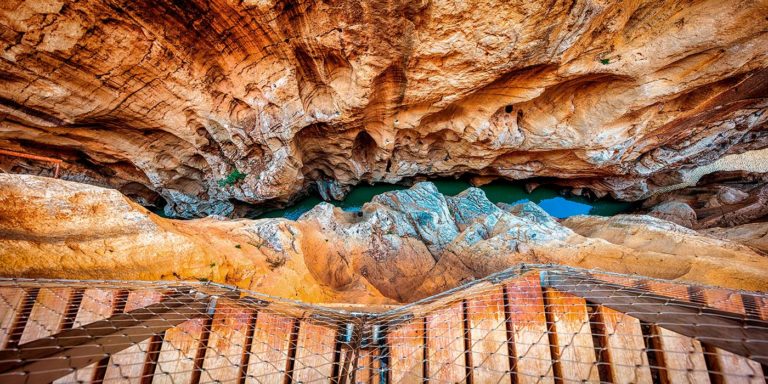 For a more leisurely outing we highly recommend a bespoke wine tasting tour. Costa Excursions is a prime service provider for such an undertaking as they offer private drivers and all their tour guides speak fluently English as well as Spanish. While visiting the vineyards of Finca La Melonera in Ronda, you will learn about the different grape varieties, followed by a visit to the barrel room. The tour will conclude approximately after two hours with the actual wine tasting, accompanied by a selection of different tapas. Since you already are in Ronda we also suggest a visit to the famous Puente Nuevo bridge. It is a truly awe-inspiring site – the bridge connects the Moorish part of Ronda with the modern part of the city.
For anyone staying at the Costa del Sol during May, we highly recommend a visit to the Jerez Horse Fair. As the name implies, the horses are in the spotlight during this event, however spectators also have the opportunity to taste local wines and Andalusian delicacies or practice their flamenco (Jerez is the cradle of flamenco) – the event is the perfect occasion to experience authentic Andalusian culture!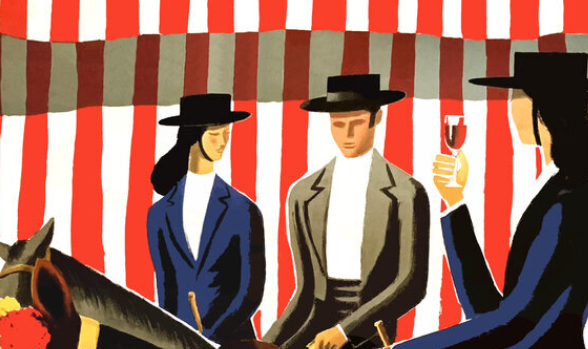 While initially established as regular livestock market in the thirteenth century, the fair transformed itself more and more into a true spectacle. Today the fair commences with fireworks on the night of the first Saturday in May and the festivities continue for the following seven days. The Jerez Horse Fair consists of more than 200 public boots, where local merchants showcase their comestible (these of course can all be sampled). Aside from various horse parades, there are also numerous live flamenco performances, no surprise that the Jerez Horse Fair is considered one of the most captivating tourist events in this region.
If you are already an enthusiastic equestrian, but only now come to realize that the Costa del Sol is a true heaven for horse riding,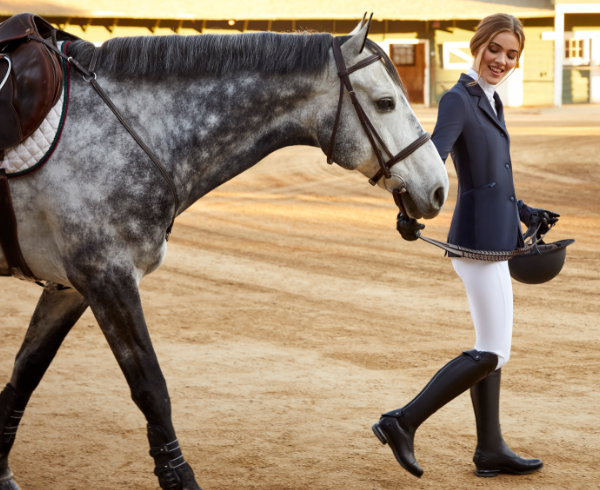 we would like to present you with our extraordinary portfolio of properties in La Zagaleta. Aside from all other advantages that come by living in Europe's most exclusive urbanization, this refined community also offers its own state of the art equestrian center. Indeed many of the fortunate residents of this spectacular complex were so impressed by its first class facility that their horses also found a new home in La Zagaleta.
Summer
While one truly can cherry pick when it comes to summer activities in Marbella there are certainly some highlights we would like to point out. For all the music festival fans the Starlite Festival surely had to be a highly anticipated event. The festival will take place on the 12th of July and among others includes Anastacia Lyn Newkirk. The festival never fails to recreate an unforgettable atmosphere due to its unique outdoor venue – the Nagüeles Quarry, the stones found here were also used to build Marbella's main church and create a truly distinctive acoustic resonance that is unique to this location.
A visit to Marbella would not be complete without a visit to one of the iconic Beach Clubs. While the official Beach Club season lasts from April to end of October many of their restaurants and bars in actuality remain open through the seasons. Marbella offers a variety of different Beach Clubs, no matter if you're looking for partying or sunny lazy days with cool vibes… rest assured Marbella has you covered. Nikki Beach is the Beach Club with longest standing tradition as it was founded in 2003. Located on a beautiful coastline in Elviria the Club recently underwent renovations and now boasts with a large pool and direct views of the Mediterranean Sea, there is also a new terrace with inviting cabanas and sun beds. Another favourite of ours is La Sala By The Sea located in Puerto Banus. This Beach Club offers an intimate atmosphere and indeed extends outwards toward the actual beach. The restaurant is not to be overlooked either as it offers various exotic varieties that go perfectly with the stunning sun sets that can be watched from here.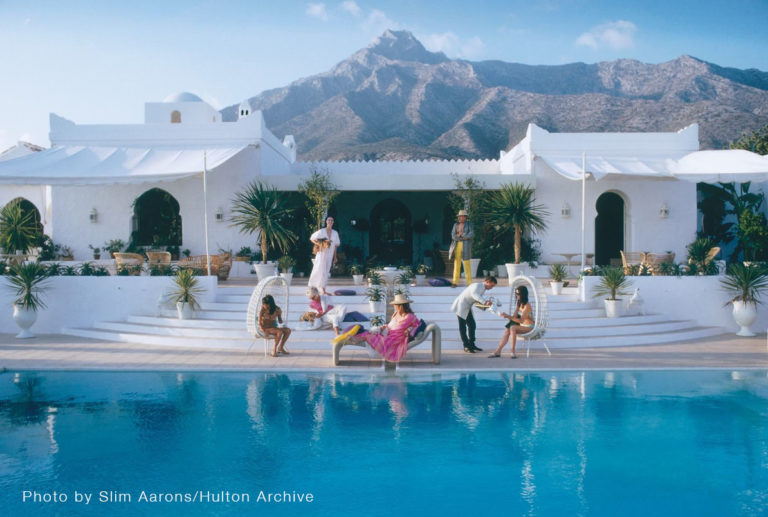 This concludes our brief tour of the different seasons in Marbella and we sincerely hope that we succeeded in proving that this is an excellent all year destination. However, should you require more information from us in regards to Marbella feel free to reach out.
Kalinka Hermann | 05/Oct/2022

Contact us now
Blvd. Príncipe Alfonso de Hohenlohe CN 340 KM 178,2
CC La Póveda, Local 5 · 29602 Marbella · Spain
Phone +34 952 868 406