#GREENFRIDAY
This year has been black enough so
let's turn it GREEN!
With the intention of promoting a sustainable quality of life and environmentally friendly homes, we join this wonderful campaign that seeks to change the perspective of Black Friday.
Today more than ever it is important to understand the importance of living in an energy-efficient property and below we give you a small guide to the important points to consider when looking for an eco-friendly property.
Building materials
The use of noble, natural and renewable materials of high durability will allow your home to remain isolated from extreme heat or cold temperatures all year round. Among the best materials available on the market we can find rock wool, arlita, cellulose, or hemp.
In addition, the use of materials such as stone, wood, touches of natural plants and water sources inside your home will give you a modern style while collaborating with the planet.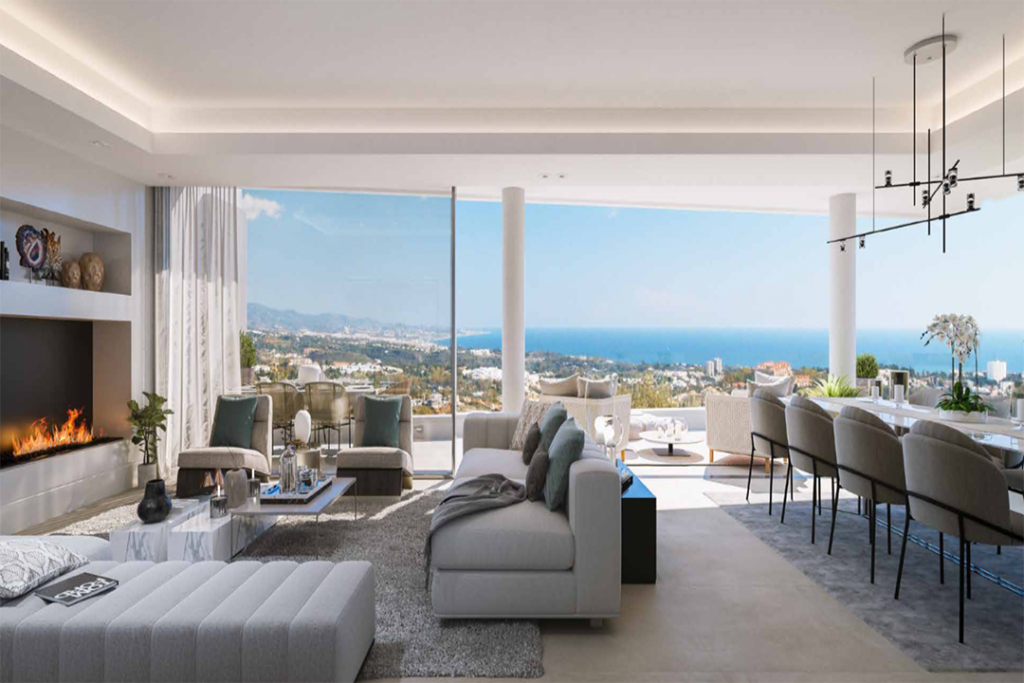 Grandview
Design focused on taking advantage of natural light in all spaces. Maximum energy efficiency thanks to the implementation of materials such as stone on the north side to retain the heat of the natural light it receives from the south side.
Energy sources
This is where Marbella draws its best sustainable charter as it is in an ideal geographical location with more days and more hours of sunlight throughout the year, allowing solar panels to be a fantastic solution to your home's electrical needs.
Another interesting resource to take into account is the use of biodegradable fuels such as ethanol to heat your fireplaces or aerotermia systems to control the temperature of the environment and water throughout your home.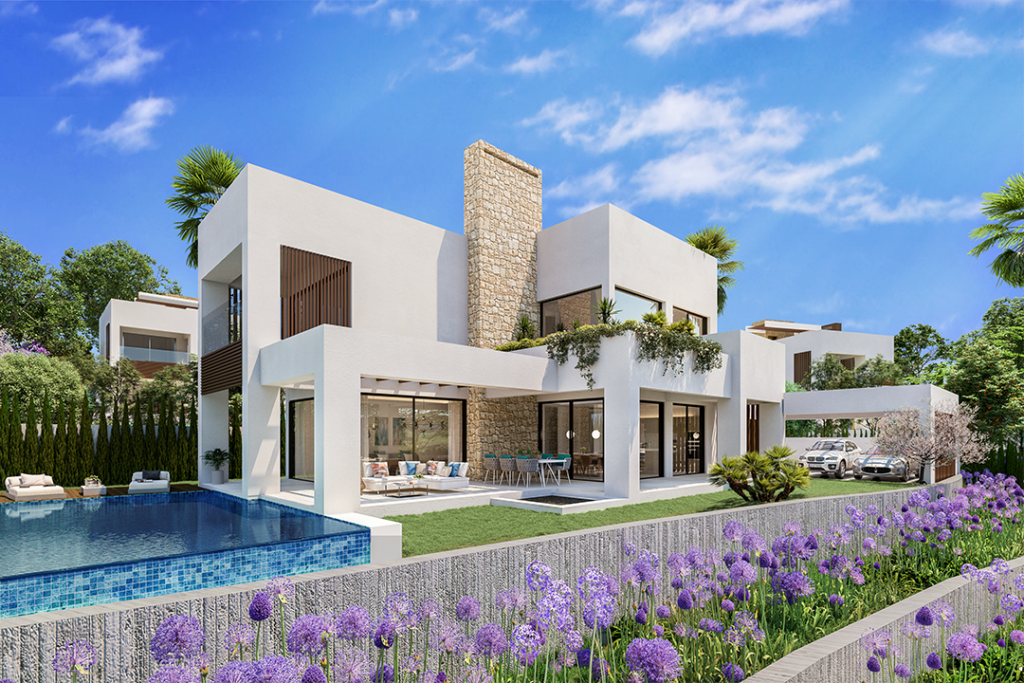 La Fuente Marbella
Built respecting the vegetation surrounding the plot and preserving the centenary trees on it. Each property will be equipped with solar panels, and with the technology of the heat pump by aerotermia.
Technological equipment
The latest technological advances go hand in hand with sustainability, which is why today people are looking for homes that have excellent home automation systems that allow owners to control technological resources – ranging from entertainment equipment to kitchen appliances, among others – more efficiently.
Among these resources, LED lighting plays an important role due to its low electrical consumption, high efficiency and durability.
Another important aspect of the technological equipment in your home is the compatibility with other essential items such as electric cars, by this we mean the possibility of having all the necessary infrastructure in the garages to have the necessary recharging points.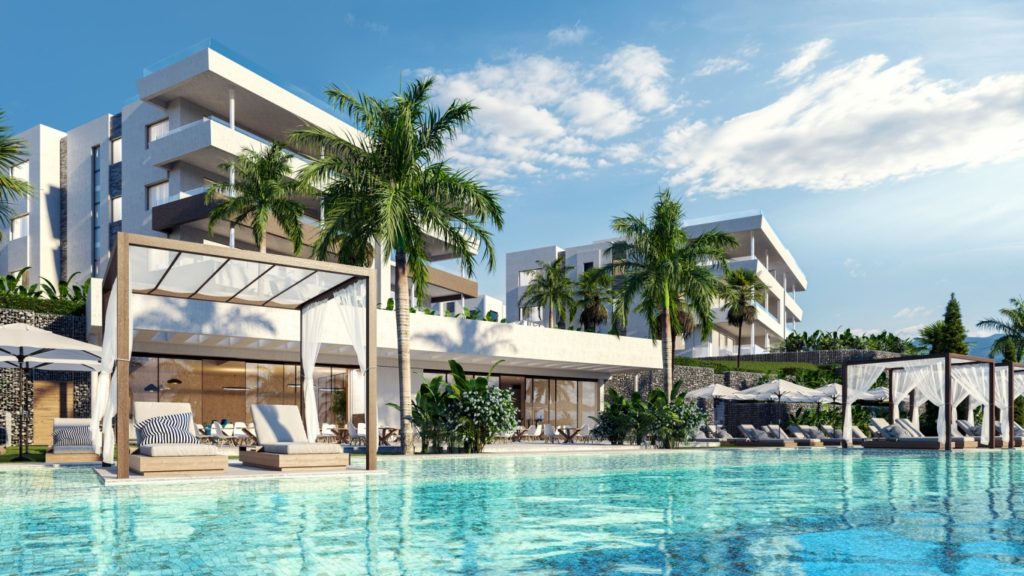 This development of apartments, villas and townhouses will be built with the highest quality of design and materials.
You will have at the disposal of the community a recharging service for electric vehicles.
Ecological gardens
Community gardens have gone from being an element of landscaping to a need for environmental responsibility and great innovation that provides quality of life in direct contact with nature.
We already know that we are what we eat and nowadays it is much more appreciated to know the origin of the food we eat, that is why the new trend of ecological gardens in homes is becoming stronger.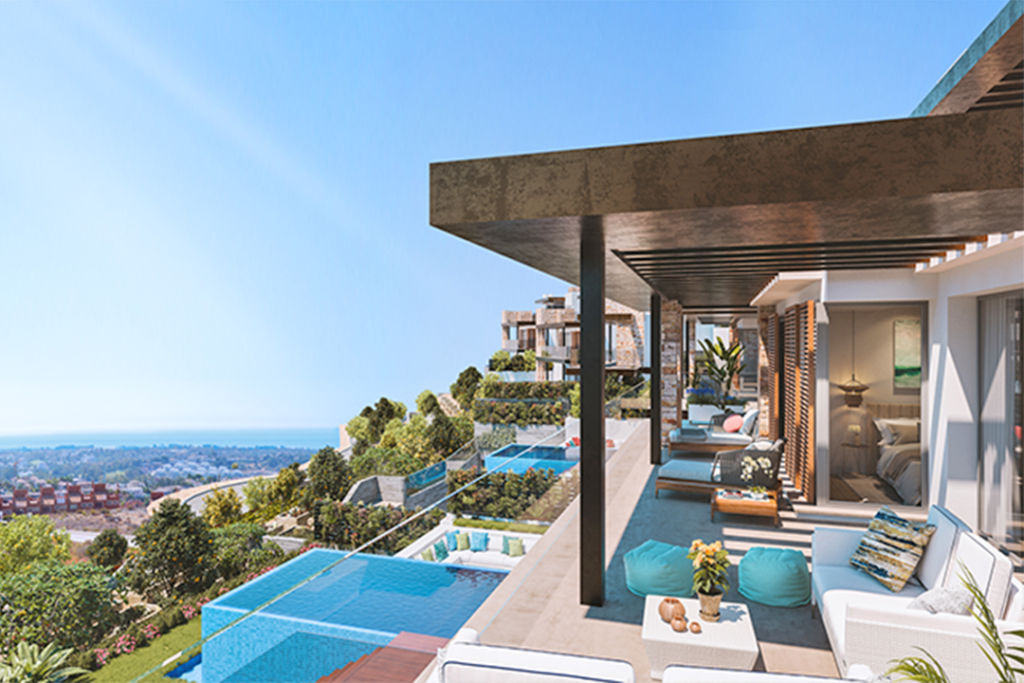 Sustainable and organic architectural design. Each owner can manage his own orchard by himself or with professional advice, and/or directly enjoy the harvest
What are the advantages of sustainable property?
Mainly to contribute positively to the conservation of the planet for future generations
A house built with sustainable technology and materials increases its economic value for a possible sale and increases its durability
It generates economic savings both in energy and water bills and in the payment of IBI tax.
Let's continue to do our bit in caring for our planet and take a look at the properties that will help us do so.
Kalinka Hermann | 27/Nov/2020

Contact us now
Blvd. Príncipe Alfonso de Hohenlohe CN 340 KM 178,2
CC La Póveda, Local 5 · 29602 Marbella · Spain
Phone +34 952 868 406